At White Line Services, we supply and install high quality running track kerbing for athletics tracks across the world. We also provide bespoke event ID plates for track events, tailored to the needs of your club or event.
High Quality Track Kerb
Our track kerbs are designed to be easy to install, and have the durability and strength to remain in excellent condition throughout many years of use.
We supply British made track kerb made from two different materials:
White PVC: British made with stainless steel retained pins that slide into a s/s ground tube or fixed brackets with s/s fixings.
Aluminium: pins and tubes.
For either type of curb,these come with removable sections, making them ideal for water jump entry areas, or exits for javelin runways. Please let us know your preference at time of ordering.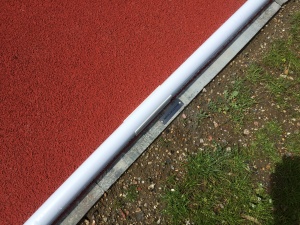 IAAF Class 2 Certification
Both types of curbing we supply are fully IAAF certified , and have been used during many international competitions.
Event ID Plates
We can provide event identification plates in any language on request. Please get in touch for further details.
Find out More
To find out more about our athletic and running track installation and maintenance services, please send us a message through our online contact form. For a free, no obligation quote, give our service team a call at our UK office on +44 (0) 1342 851 172.