At White Line Services International, we offer a selection of indoor and outdoor sports court maintenance, marking and painting services.
Indoor Courts and Tracks
We offer specific sports surface marking services tailored to the type of indoor sports hall flooring you use and the manufacturer. Brands we cater for include Sportsflex, Taraflex, Gerfloor Vinyl, Tarkett, BSW Berleburger, Mondo and Polyflor.
The service includes surface pre-treatment and the use of a paint recommended by the flooring manufacturer for optimum service life and durability.
We can provide high-quality markings for all indoor sports areas, including squash courts, tennis courts, multi-purpose areas and indoor running tracks.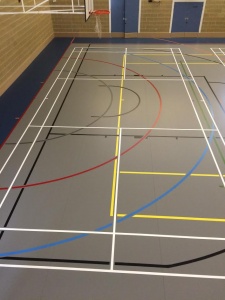 Outdoor Sports Courts
Our outdoor sports court marking service uses high-quality paint, designed for heightened resistance to the effects of rain, frost and sun damage. Using the right paint for the right material means your paint job will last for longer and less long-term maintenance will be required.
Our team can paint markings on all man-made services, the most commonly used being:
Tarmac, asphalt and concrete surfaces: We offer a comprehensive range of colour coatings and weather resistant sports linings.
Synthetic rubber sports surfaces, including polyurethane: We can carry out repairs and resurfacing as well as markings. We also offer a high pressure cleaning service for these surfaces.
Artificial turf: We can maintain and paint markings on a variety of different artificial turf materials, including polypropylene and nylon. Our paints take into account the specific requirements of your brand of artificial turf and their manufacturer's instructions.
Whether your sports facility is a small, municipal club or a venue for international competitive athletics, we apply the same rigorous standards of quality and durability in all we do. We aim to equip you to compete at the highest levels, in compliance with UKA and IAAF standards, whether or not you choose to do so.
Find Out More
Our line markings services cover outdoor and indoor sports facilities of any size, from a single court or track to large multi-purpose facilities and buildings with many different sports areas. For a free quote, please get in touch with our customer service team on +44 (0) 1342 851 172.