We started our track cleaning service in 1989, so we have had over 28 years to perfect a fast, thorough and affordable service for any sports surface. The idea behind our service is simple; we aim to give your sports surface a comprehensive, effective deep clean that will completely rejuvenate your sports area.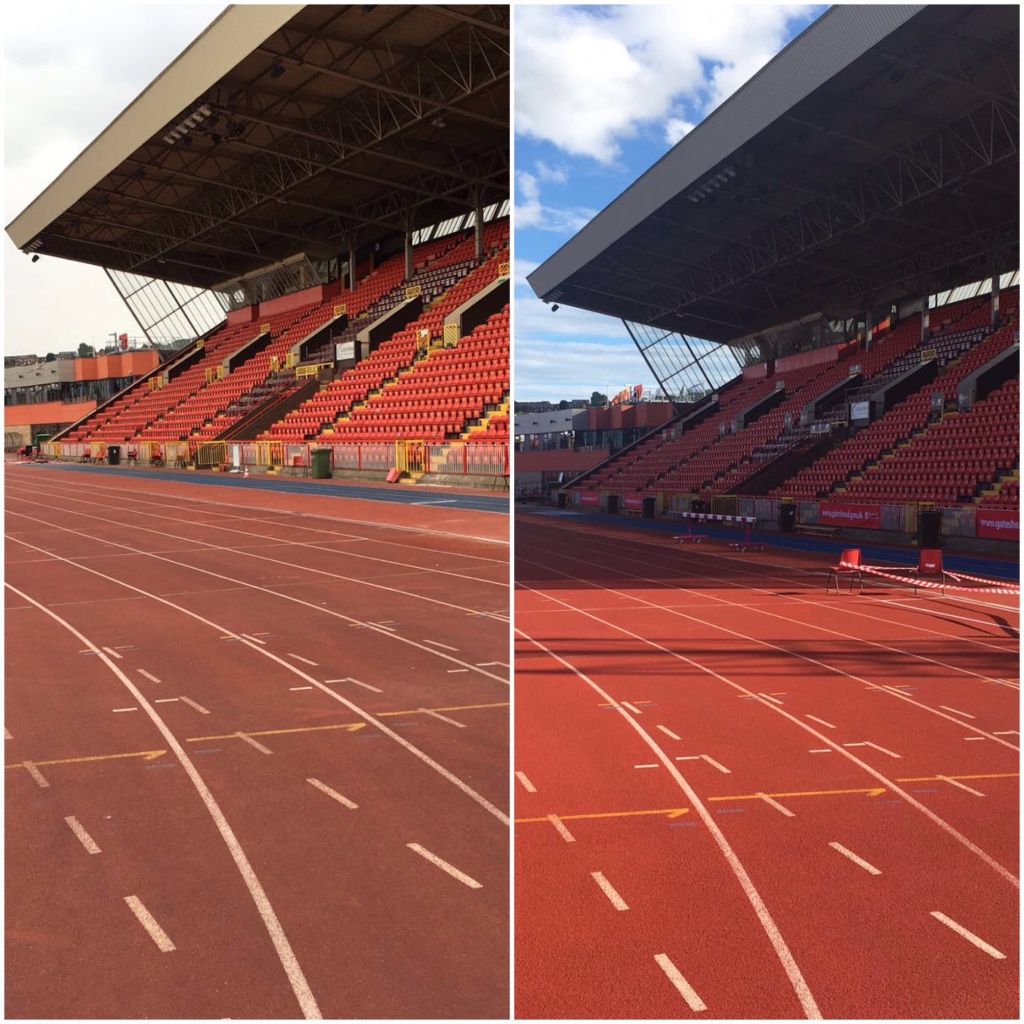 Certified Professional Service
We are SSSTS qualified with the CSCS. We are members of Construction Line, SAPCA, CHAS, and all our cleaning professionals are fully CRB checked.
Introducing our high-pressure Mobile Cleaner
We use mobile cleaning machines equipped with high-powered water pump cleaning with pressures in excess of 2000 PSI. This high-pressure clean is enough to dislodge all dirt, grime and contaminants – including most weeds and moss. Our machines are 1.22m wide (4 ft), making them perfect for cleaning athletic tracks one complete lane width  at a time and vacuuming up the dirty water as they go along.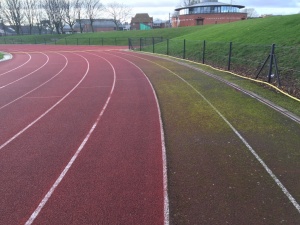 Its compact size means the machines can easily fit through double fire doors and clean indoor spaces as easily as outdoor tracks. Our specialist design gives you a clean surface without any overlap marks.
The below video shows our machine in action.
You only need to provide a secure water supply.
Our sports surface cleaning service is perfect for…
All outdoor running tracks and stadiums
Indoor Sports courts
Indoor running tracks
Tennis, multi purpose areas
Athletics arenas
Our high pressure cleaning service will give your playing area a new lease of life, extending the effective life of your sports surface and maintaining the highest standards of performance and safety.
The Benefits of our Service
Fast effective service: We will arrive, high pressure clean your track and complete the job within the shortest time frame possible. To give an indication of timeframe, and eight lane track can be restored to pristine condition in just three days.
Easy, straightforward pricing: One price for the whole job; no hidden fees, cost per square metre or hourly charges. What we quote is what you get.
Algae treatment: If you have an issue with algae on your track, let us know and we will treat the infestation with environmentally friendly algaecide at no additional cost.
Thorough cleaning service: The price includes cleaning all synthetic surfaces, and we also get into all the corners and behind the inner kerb where dirt often accumulates.
Committed to quality: We collect and dispose of all dirty water and we won't leave site until you are entirely happy with the quality of your clean.
As an additional service, once the track has been cleaned, we apply a fungicidal spray to the track to eliminate any moss or algae spores. Please discuss this with the office for more information.
Find Out More
For a free sports surface cleaning and maintenance quote, simply send us an email through our online contact form, letting us know how many circular lanes and straight lines you have. For tennis and squash courts, and other sports areas, please let us know the approximate size in square metres.