Here at White Line Services, we can't stress enough the importance of keeping up-to-date with the maintenance of your athletic track and sports courts. In order to ensure your facility is ready for action at all times and to prevent the occurrence of injuries on damaged surfaces, this is what we suggest.
For your athletic track, be sure to keep your track clean. When dirt begins to form, if not deal with, this can cause severe damage if continually used. If during the winter months your track has dirt and moss, this can cause an icy and slippery surface for anyone training on it. The conditions of your track could then worsen and potentially cost you more in the New Year.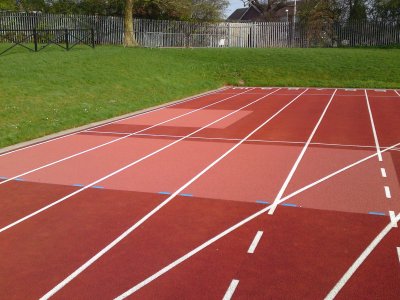 We recommend that you get your track and sports courts high pressure cleaned every 2 years to prolong the life of the surface and provide the best conditions for your athletes.
To keep your tracks or sports courts looking their best, you might need to get the lines repainted. White Line Services use extremely durable, top quality paint that is weather resistant and will give you many years of service.
We also offer a surface repair service which involves the eco-friendly removal of moss, dirt using our high pressure aqua- vacuuming machine and the repair of small holes across your surface. By re-texturing and restoring damaged areas will help prevent major maintenance issues.
The benefits of keeping up-to-date with track maintenance means that in the long run you will reduce the overall cost by potentially preventing costly damage to your tracks and sports courts.
To find out more about how our maintenance services could help you, please contact us for a quotation today at office@white-line-services.com.
To follow some of the maintenance work we provide, follow us on Facebook and Twitter @whitelineserv.